Cuffe of Co. Kilkenny
In 1641, Hugh Cuffe's grandson, the Ennis-born Joseph Cuffe, joined a cavalry regiment raised to defend the interests of the new planters during what would become one of the most brutal wars in Irish history. During Oliver Cromwell's Protectorate, Sir Charles Coote, a first cousin of Joseph, became one of the most powerful men in Ireland. Another close family friend was Sir William Petty, the man entrusted with the redistribution of lands confiscated from Catholic Irish families to English officers. In 1654, Joseph Cuffe was awarded a substantial 5000 acre estate in the barony of Shillelogher, County Kilkenny. In due course his descendents would come to call the estate "Desart". When a serious challenge to the Cromwellian land settlement was initiated by the administration of the Catholic James II, Agmondesham Cuffe, Joseph's son and heir, was amongst the first men to take up his sword for the Dutch Prince William of Orange.
Click HERE for further information.
Click this LINK for immediate access to the Cuffe pdf.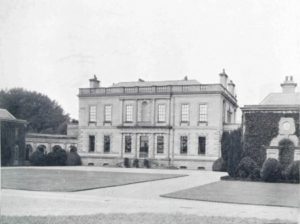 Desart Court