Briscoe of Co. Meath
The first of the Briscoe family to have been established in Ireland would appear to have been Thomas Briscoe, who was granted over 500 English acres of land in south west Tipperary, in the Barony of Clanwilliam in lieu of the £100 he had adventured to the Commonwealth.[1] By the late eighteenth century they were principally resident at Tinevane, an estate on the Tipperary-Kilkenny border near Carrick-on-Suir. According to Burke's The Landed Gentry of 1879 the first of this family was Henry Briscoe, who was a J.P. for counties Tipperary, Kilkenny and Waterford. The author did not appear to know anything about the antecedents of Henry Briscoe.
Henry, later a J.P., who was born in 1753, pursued a career in the military in the 1st regiment of horse in which he was enlisted in 1770. Five years later he married Margaret Sneyd and they had three sons and six daughters, four of whom married. The dowries that had to be provided with those ladies must have proved to be a drain on Henry's finances.
[1] Prendergast's Cromwellian Settlement of Ireland.
Click HERE for further information.
Click this LINK for immediate access to the Annesley pdf.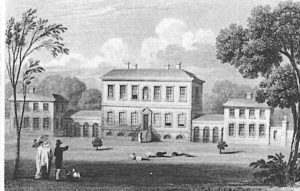 Bellinter House