Bryan of Co. Kilkenny
Jenkinstown estate was situated on the banks of the Nore at Ballyragget, Co. Kilkenny. The rolling countryside and the sweep of the Nore at Ballyragget combined to make the Jenkinstown estate one of the most beautiful in the county.
Thomas Moore, the celebrated 19th century poet and songwriter, was a frequent visitor at Jenkinstown. It was while staying there he was inspired to write "The Last Rose of Summer" one of his best known songs set to an adaptation of "The Groves of Blarney". Thomas was very friendly with George Bryan and his social connections in Kilkenny where he attended and took part in the Kilkenny Private Theatre Productions initiated by the Powers of Kilfane. With the passage of time the friendship between the Bryans and Thomas Moore (and his wife Bessy Dyke) became deep and enduring. The Moores visited Jenkinstown many times and while both families were in Paris in 1822 they socialized on a daily basis, exchanging presents and dining together
Click HERE for further information.
Click this LINK for immediate access to the Annesley pdf.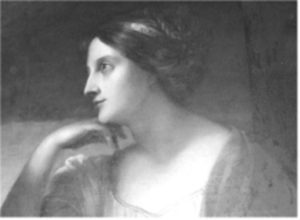 Naughty Margaret